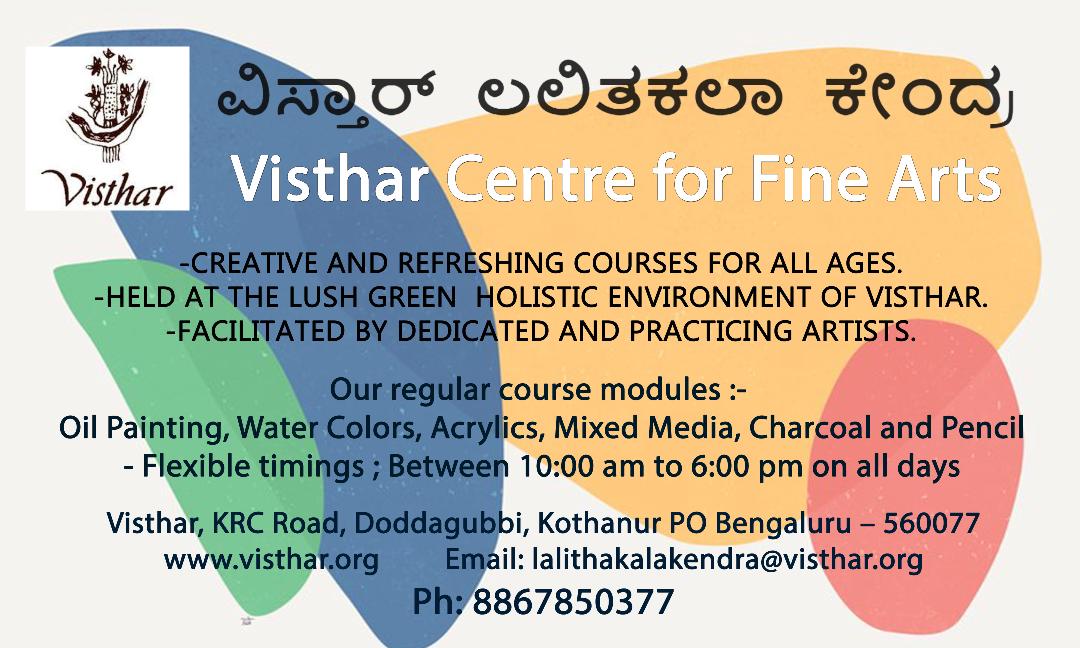 Community Art Classes
Visthar Lalitha Kala Kendra/Visthar Centre for Fine Arts is currently offering Community Art Classes for all age groups. The classes will be held at the well-equipped art studio in the lush green and aesthetic environs of  Visthar.
Art stimulates creativity and imagination. It provides visual, tactile, and sensory experiences and a special way of understanding and responding to the world. The community art classes will enable participants to communicate what they see, feel and think in colours, textures, forms, patterns, materials and processes.
Objectives:
To develop imagination and creativity through a range of art activities and demonstrations
To improve the abilities to manage materials, tools and techniques
To increase creative and critical thinking on the roles and purposes of art in different contexts
To develop confidence in the use of visual and tactile elements and materials
To foster an appreciation of visual arts and a knowledge of artists, craftspeople, and designers
To develop a sensitive approach towards self and society.
For further details, please Contact Mahesh Pattar, Coordinator and Senior Artist, Visthar Lalitha Kala Kendra (VLKK).
Contact info:
Ph: 8867850377 | Email: [email protected]